Financial leaders rely heavily on consolidated reports to guide strategic decisions.

But aggregated views come at a steep cost — masking crucial granular risks and opportunities. Artificial intelligence provides a path forward.

Consolidated reports roll-up metrics across business units, products, regions etc. into an average enterprise-wide snapshot. This high-level perspective is useful for overall company oversight.

However, blending together positive and negative values creates a compensation effect. Problems in one area get cancelled out by strength elsewhere, generating a neutral consolidated result.

Take for example a retailer analyzing sales growth. Country A is up +2%, Country B is up +3%, but Country C is down -4%. The consolidated worldwide growth shows +1%, missing the underlying risk.

This aggregated view hides the urgent need for intervention in Country C. By the time the issue bubbles up into consolidated figures, it may already be too late for quick corrective action.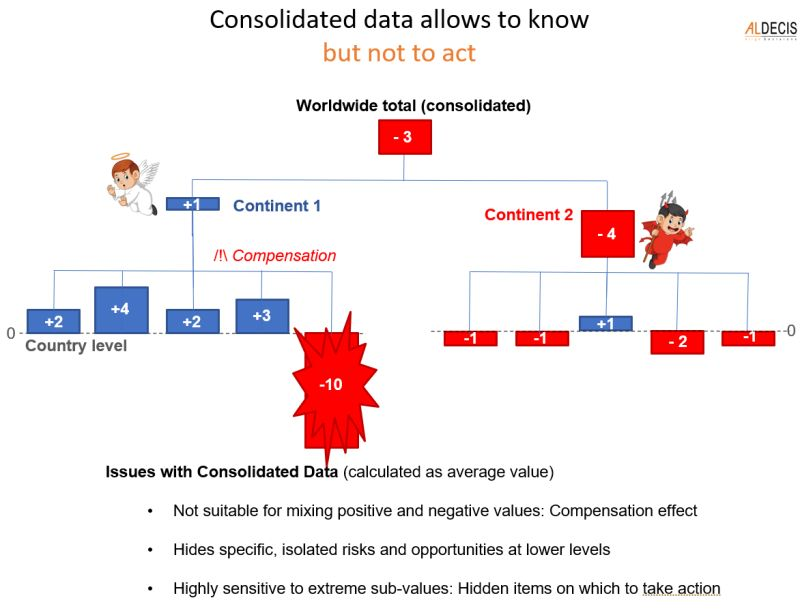 Companies also use consolidated data to set future goals and allocate resources.

But an average target fails to account for variation at granular levels. Setting unified objectives and budgets for countries performing at +3% and -4% is counterproductive.

Granular analysis uncovers insights hidden by consolidation. But assessing data across countless dimensions manually is impossible.

This is where artificial intelligence comes in. AI can continuously analyze multidimensional data to detect emerging risks and opportunities while explaining the business drivers behind them.

Reactive Insight is an AI platform purpose-built for early detection of financial and operational risks.

It autonomously analyzes millions of granular data points across any combination of dimensions.

The system flags metrics deviating from goals and alerts users to growing threats long before they escalate. It also identifies optimization opportunities such as profitable customer segments, best-performing products etc. buried deep in the data.

If you're a CFO struggling with the blindspots in consolidated reporting, our team would love to connect.

We offer an AI platform, Reactive Insight, that provides granular analysis of your financial data to reveal risks and opportunities buried in the noise.

What's more, with Reactive Insight we do this in just one page with prioritized insights.

Book a private demo and we'll ingest your actual data sets into the system.

You'll receive a customized sample report showing the types of powerful insights Reactive Insight can uncover autonomously.

– Spot growing threats months before they visibly impact consolidated figures
– Understand the root causes behind financial metric fluctuations
– Optimize capital allocation backed by predictive, multidimensional insights
– Provide strategic guidance beyond the limits of aggregated reporting